Press Release below. I admit to having mixed feelings about this. Winslow (my top recommended life raft manufacturer) was going to be sold, that was never a question since it was bought by vulture capitalists, and a sale to someone has been in the works for some time now. The good news, in my opinion, is that Goodrich beat out a number of large foreign conglomerates that were also bidding. Based on what I have seen those companies do, I think Goodrich is probably a better fit. I certainly hope so.
Having said that, the big question is if Goodrich will muck it up as typically occurs when a huge corporate conglomerate takes over a niche company. They destroyed their own corporate aviation division because they had a big corporate mentality. Winslow has succeeded because they have been nimble, innovative and always went out of their way to put the customer first. That's the reason I have for many years rated them number one in the life raft business and they have been my recommendation for many years.. So far, I have heard all the right lines from the parties, in particular that they are not going to mess up a good thing, but I am too much of a cynic to take that as gospel. I would love to be pleasantly surprised and see Winslow prosper under the new ownership and I wish them the best of luck going forward.
It should also be noted that Goodrich itself is being acquired by United Technologies, an even bigger conglomerate. Winslow is the guppy in all this…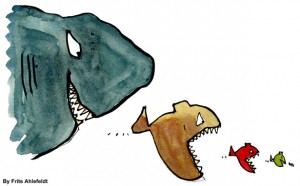 ———————————-
Goodrich Corporation has acquired Winslow Marine Products Corporation (Winslow), a leading provider of life rafts to the corporate aviation, helicopter, and marine markets. The transaction closed on September 30, 2011. Terms of the acquisition were not disclosed.
Winslow, a privately-held company, employs approximately 70 people at its Lake Suzy, Fla. facility. Founded in 1941, Winslow has a long history of innovation in the aviation and marine life raft markets. Winslow products are used by the leading corporate and business aircraft manufacturers, and are custom-designed to fit in a variety of aircraft interior configurations. Winslow has also successfully applied its aviation life raft design capabilities to the commercial helicopter market.
"Winslow's focus on customer satisfaction and delivery performance has created a leadership position in the market for corporate and business aircraft life rafts," said Cindy Egnotovich, segment president, Nacelles and Interior Systems at Goodrich. "This acquisition complements Goodrich's existing competencies in aviation safety products, fabric and technology and expands our broad aircraft interiors product portfolio."
Additional information can be found at www.winslowliferaft.com .
Winslow will become part of Goodrich's Interiors business.
Goodrich Corporation, a Fortune 500 company, is a global supplier of systems and services to aerospace, defense and homeland security markets. With one of the most strategically diversified portfolios of products in the industry, Goodrich serves a global customer base with significant worldwide manufacturing and service facilities. For more information visit http://www.goodrich.com .
Goodrich Corporation operates through its divisions and as a parent company for its subsidiaries, one or more of which may be referred to as "Goodrich Corporation" in this press release.
SOURCE Goodrich Corporation; GR – Nacelles and Interior Systems